A Darling Derby Party
A few months ago, I was sitting at the Southern Coterie Summit listening to some amazing women talk about expanding brands, and I immediately knew the next direction I wanted to take The Dinner Darling. For as long as I can remember, I have LOVED party food. I love to make it, I love to serve it, and I absolutely love to eat it. So when I discussed this with my dear friend, Jeannie Hood, of Blair's Gifts, she immediately agreed to collaborate with me on this, and we started planning our next move. We knew we wanted to feature some other local businesses, and were thrilled when Mallory Henry of Lavish Fleur, and Betsey Mosby and Abby James of The Finery agreed to join in on the fun with us. My friends at Cathead Distillery donated the booze, and with the help of our amazing photographer, Abe Draper, we curated such a beautiful Mississippi-style Derby Day spread that I hope you will enjoy.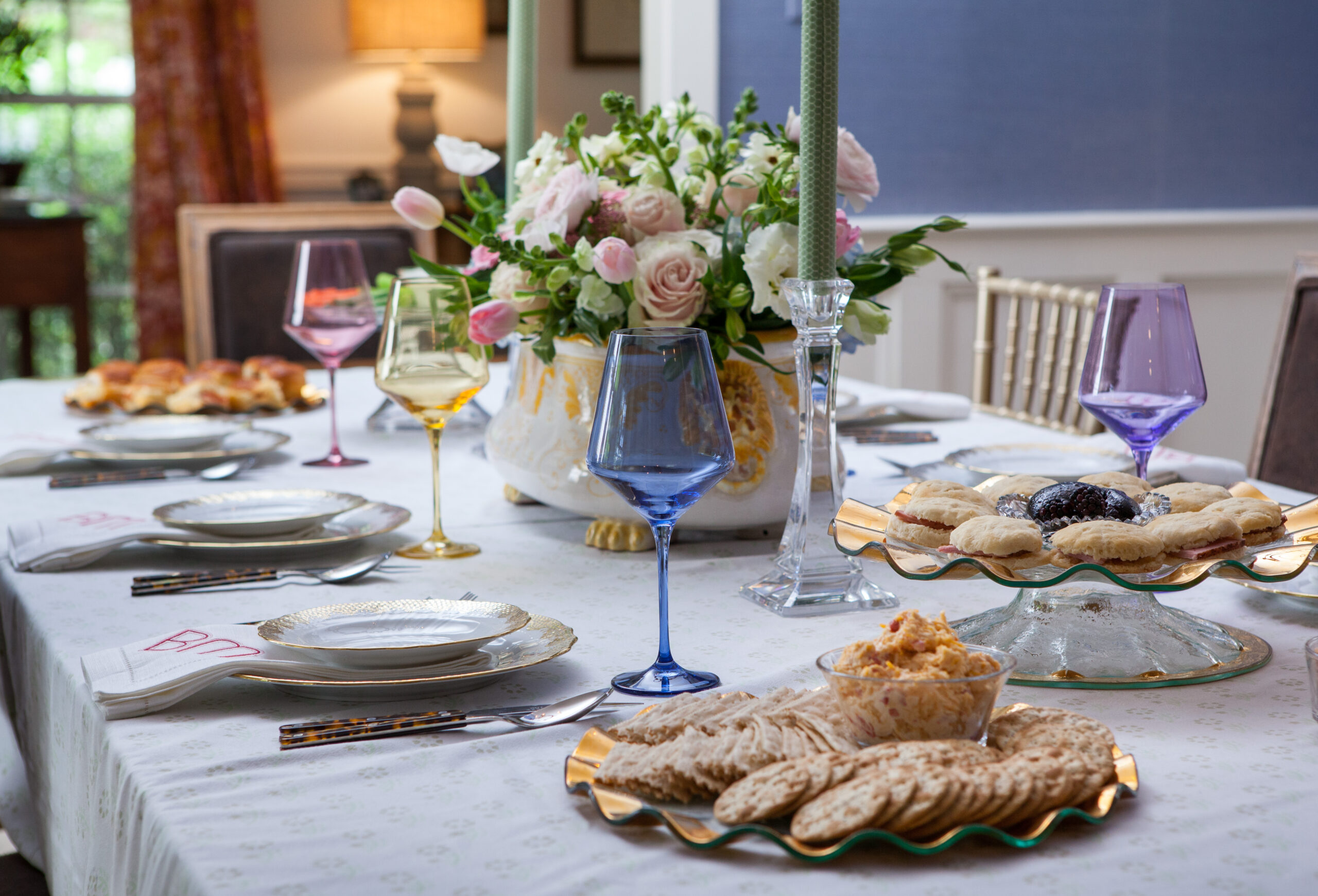 The Table
For the table, we knew we wanted to create elegant settings with pops of color perfect for any Spring party. Jeannie, with Blair's Gifts created these custom embroidered Sierra napkins, which paired exquisitely with the Herend Gold Fish Scale China from The Finery. Blair's Gifts is an online shop specializing in bespoke gifts and custom embroidery, and you can shop her store here.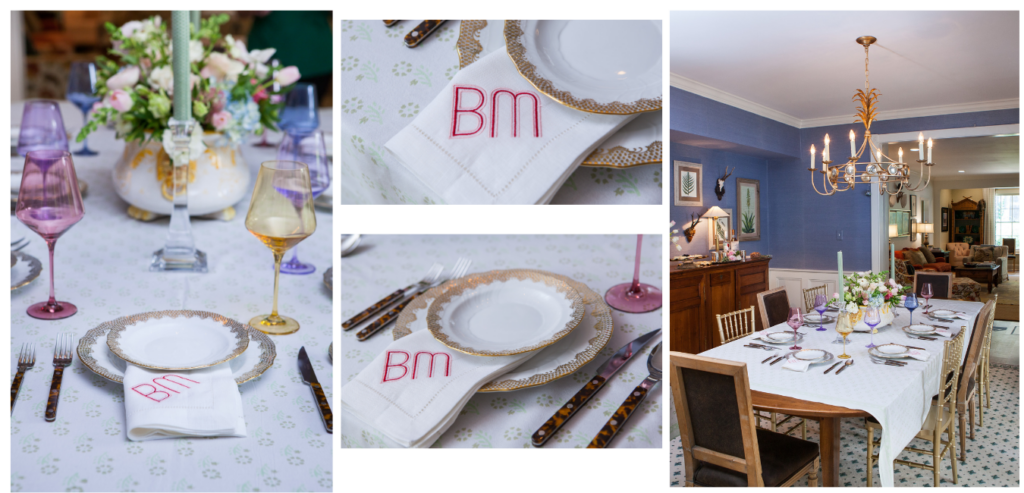 We added colorful Estelle Wine Glasses, also from The Finery, to keep the table bright and beautiful. The flatware that The Finery paired with it is Conty in tortoise, and was the perfect accent to complete the table setting. The Finery is a beautiful retail shop specializing in table, home and bridal located in Highland Village in Jackson, Mississippi. You can shop their beautiful selections in store or online here. Mallory, with Lavish Fleur created the most gorgeous centerpiece and table floral arrangements for our shoot, that added the perfect touch to complete the tablescape. Lavish Fleur is a speciality florist located in Jackson, Mississippi, and you can order from her through her Instagram page @lavish_fleur.
The Menu
Mississippi Hot Brown Sliders
Homemade Pimento Cheese
Benedictine Dip and Veggies
Ham Biscuits with Blackberry Jam
Kentucky Derby Pie Bars
Sugar Coated Pecans
Oaks Lily Cocktail
Mississippi Mint Julep
The Menu Details
The Kentucky Derby's most famous sandwich is the Hot Brown, which originated at the Brown Hotel in Louisville, Kentucky. A traditional Hot Brown is an open-faced sandwich with turkey or ham, covered in bacon, a creamy Mornay sauce and baked until crispy. Since we were planning pick-up food for this party, I knew that I wanted to do my own take on this famous sandwich, and it turned out delicious! I used King's Hawaiian butter rolls and used a sharp knife to cut off the tops. I then spread a smooth layer of lite mayonnaise on the bottom halves, and topped with turkey, cooked bacon, sliced roma tomatoes, and a thin slice of gruyere cheese. I placed the tops back on the sandwiches, and baked in my preheated oven for 25 minutes at 350 degrees F in a large, prepared baking dish. While the sandwiches were cooking, I melted 2 tbsp butter, with 1 tsp Worcestershire sauce over medium heat in a small saucepan. When sandwiches were baked, I topped with the sauce and served hot.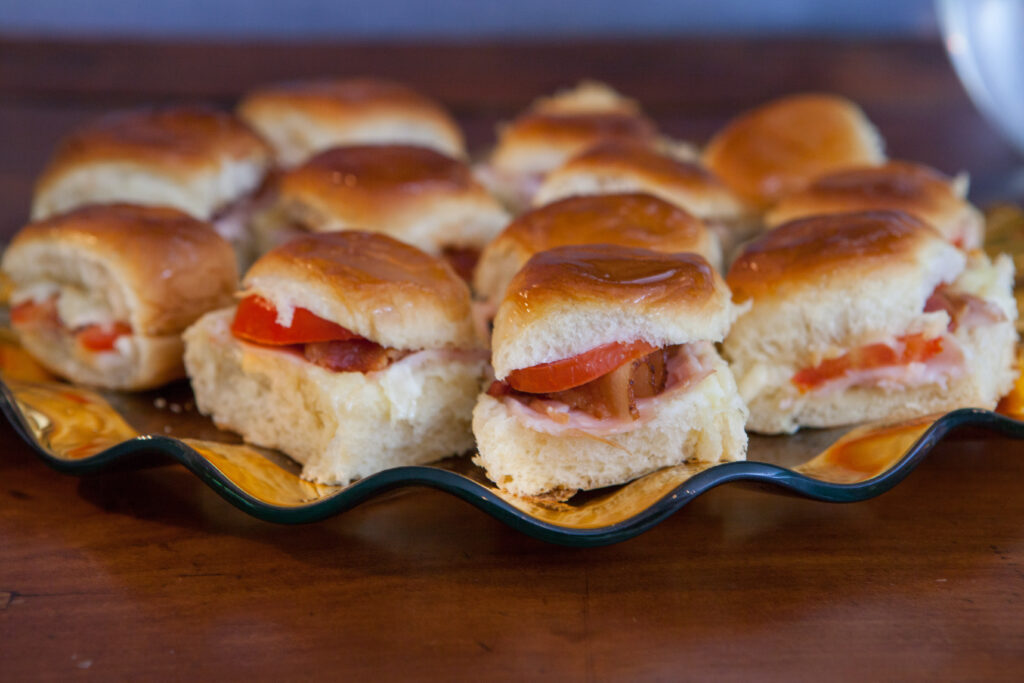 Next up – homemade Pimento cheese. Pimento cheese is a southern favorite, and definitely one that is a hit at parties, so I knew I wanted to incorporate it into my menu. I mixed 1/2 cup mayonnaise with 1 block of softened cream cheese until smooth. I then added one 4 oz jar of pimentos, with the juice, and 2 cups of shredded cheddar cheese. I seasoned with salt, pepper, 1/4 tsp garlic powder, and 1/2 tsp chili powder and mixed well. I served with various crackers, and it was the perfect addition to the party menu.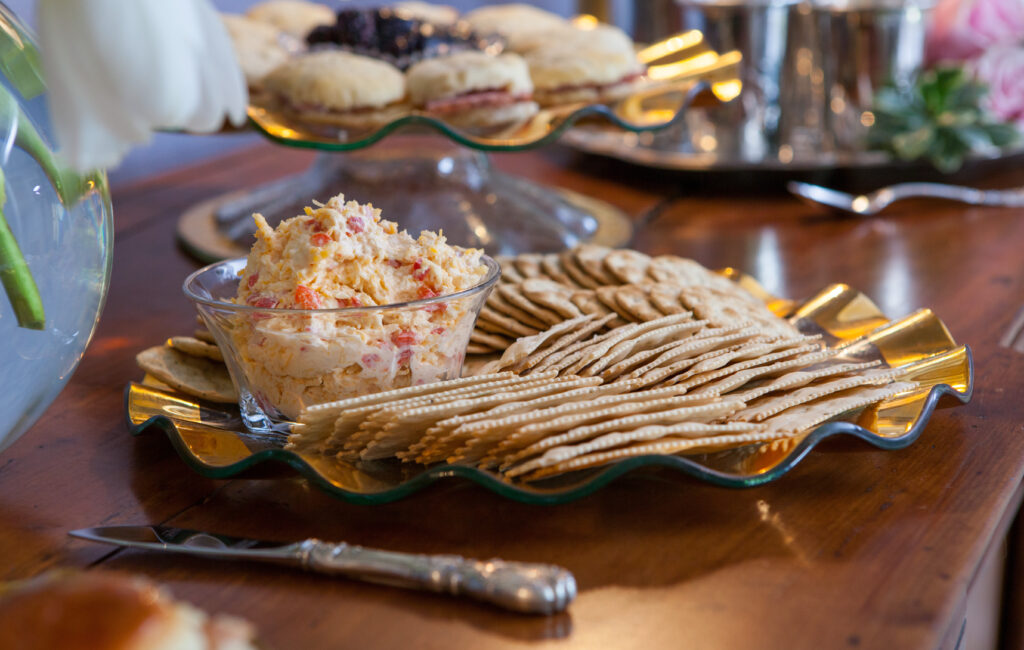 Another Kentucky Derby fan favorite is the Benedictine spread. It was created by Jennie Carter Benedict, a cookbook author, and restaurateur from Louisville, and it is the most light and refreshing dip I have had in years. I started by grating half of an English cucumber into an 8 oz block of softened cream cheese. Then, I added 2 tablespoons of grated onion, salt, pepper, and a few dashes of Red Clay Verde Hot Sauce. I added a tablespoon of mayonnaise for extra creaminess and then refrigerated. I cut up some carrots and celery, and served it cold.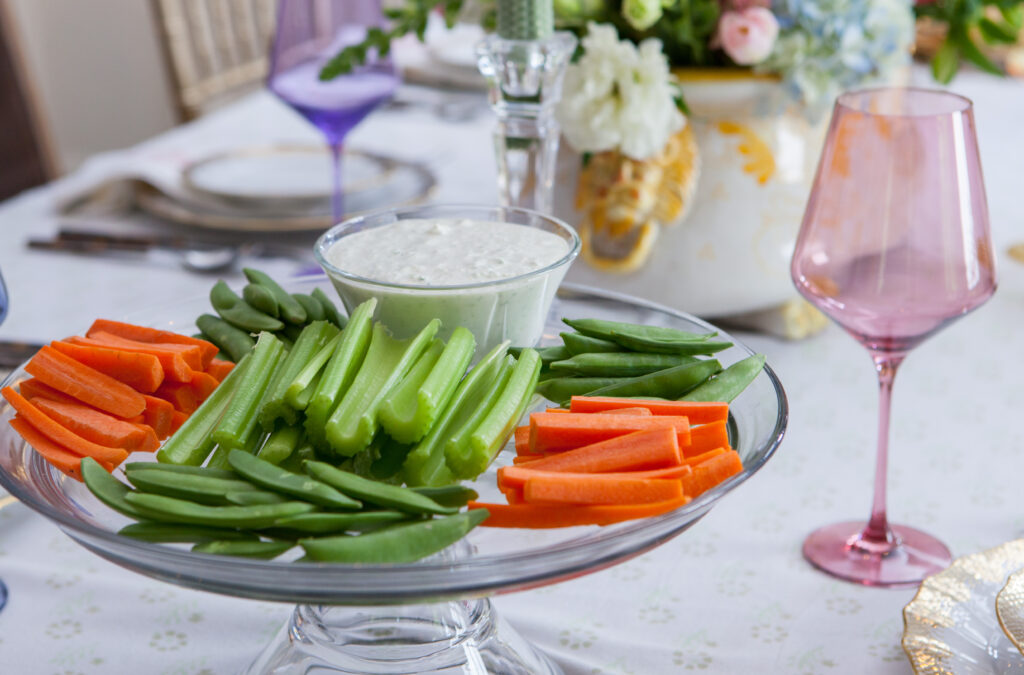 One of my other party go-to's is ham biscuits. I went with Mary B's thin biscuits, because they are delicious, and added carved ham for a simple sandwich. Blackberries are the official fruit of Kentucky, so I served them with a store-bought blackberry jam, and they were simple and delicious.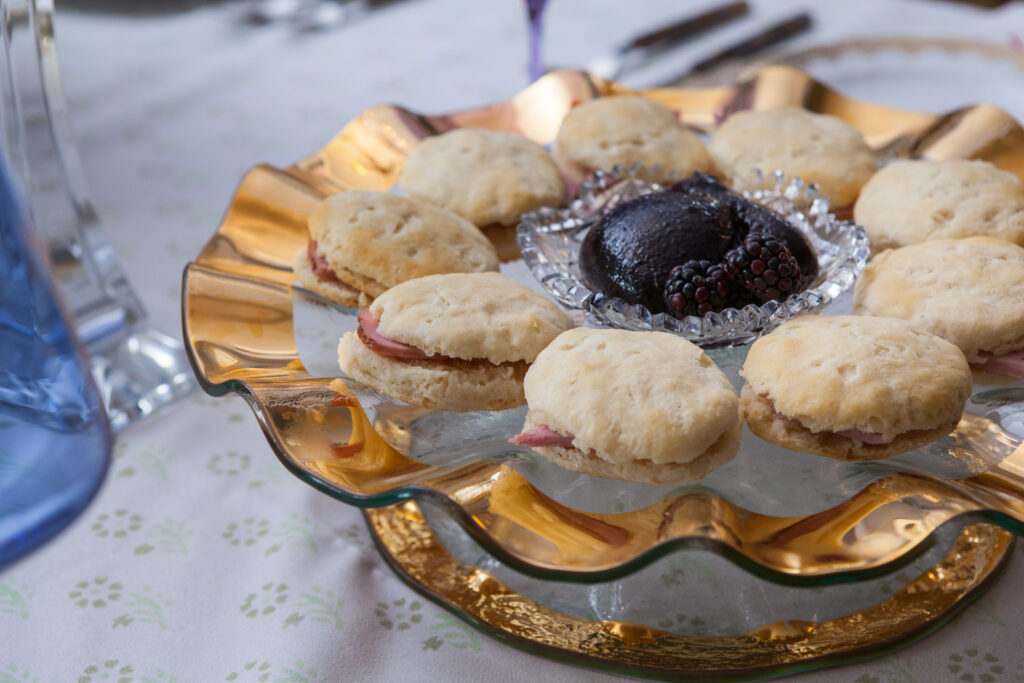 For something sweet, I decided to make Kentucky Derby Pie Bars. I grabbed this recipe from The Wood and Spoon, and it was perfect. If you know me at all, you know I DO NOT bake, so this recipe had to be completely outsourced, and it was easy and the perfect sweet addition to the menu. Kate with The Wood and Spoon has amazing recipes, and am thankful she is letting me share this one with you.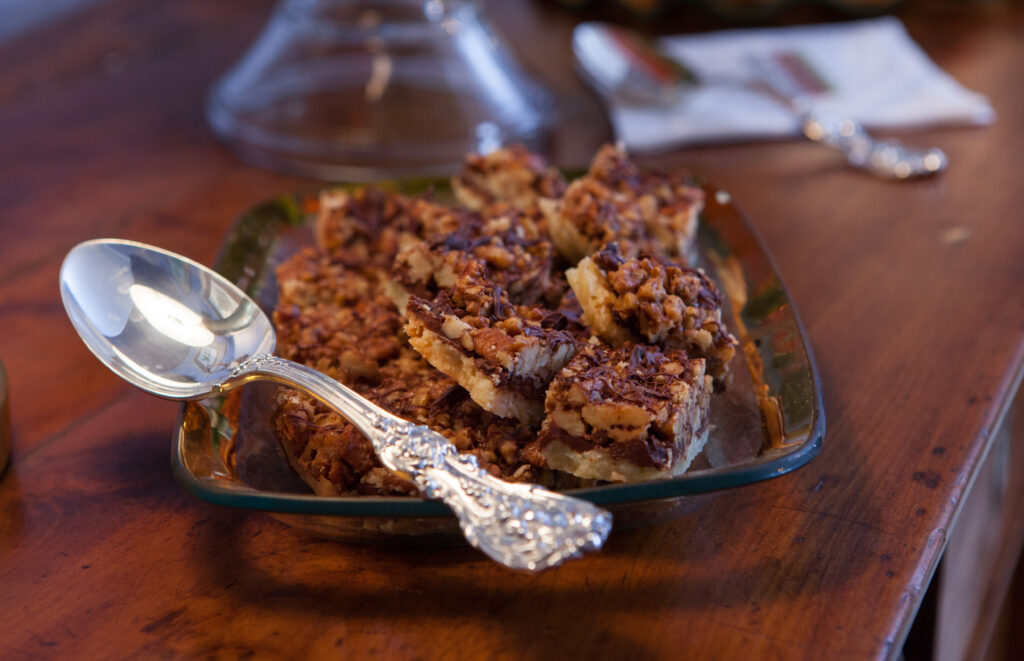 I wanted to have something sweet for the bar area too, so my sister sent me her sugar-coated pecan recipe, and they were perfect. I was gifted some Schermer Pecan halves, so I knew I wanted to use them for this recipe. I whisked one egg white with 1 tablespoon of water until frothy, and added in 1 lb pecan halves, mixing to coat. In a large bowl, I mixed 1 cup white sugar with 2 tablespoons ground cinnamon, and a pinch of salt. I added the sugar mixture to the pecans and stirred well. I baked the pecans on a greased baking sheet at 250 degrees F. for one hour, stirring every 15 minutes or so. Once they were cooled, I served them in a beautiful glass dish next to the bar for a sweet treat.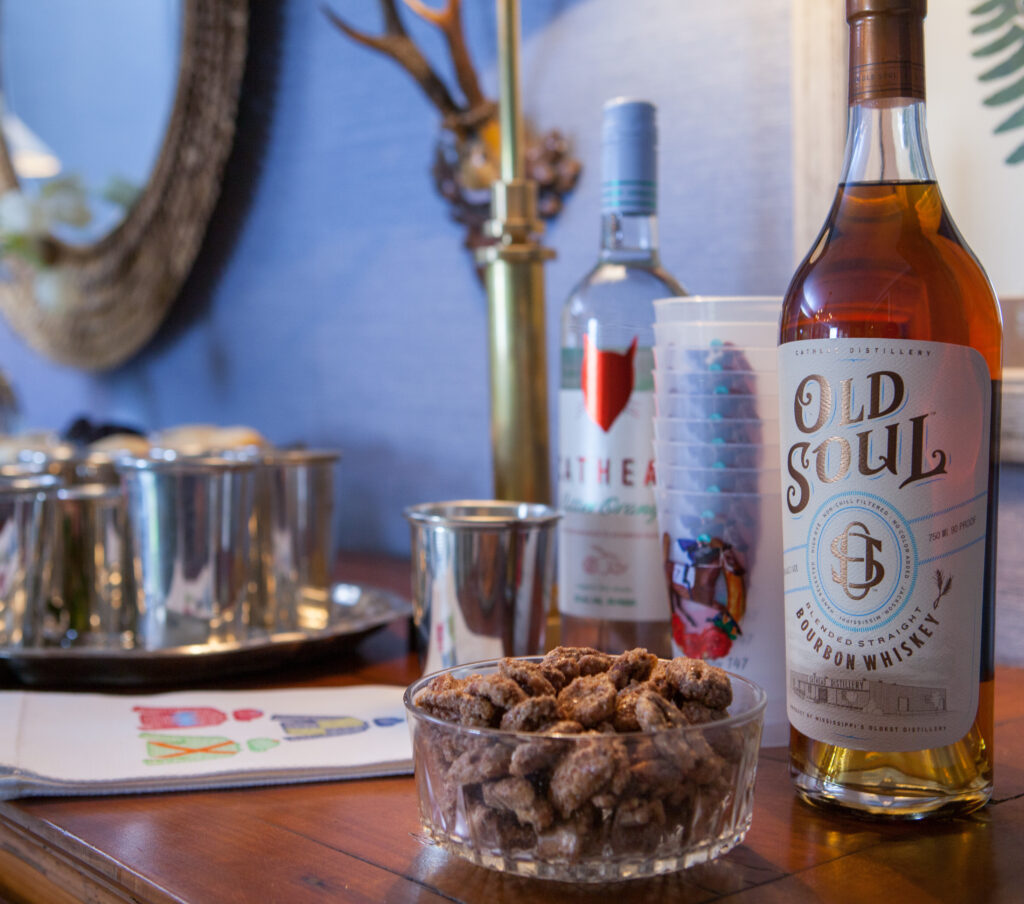 The next, and one of the most important aspects to any Derby themed party, are the cocktails. My friends at Cathead Distillery, Mississippi's first legal distillery, just released a new Bitter Orange flavored vodka, that I knew I had to incorporate into my menu. The race on the Friday before the Kentucky Derby is the Kentucky Oaks, and their signature cocktail is the Oaks Lily. It is traditionally served with vodka and orange liqueur, so I knew this was the perfect drink for the Bitter Orange vodka. I used 2 oz Cathead Bitter Orange Vodka, 2 oz cranberry juice, 1/4 oz simple syrup, and 1/2 oz lemon juice to make this beautiful and refreshing cocktail. This cocktail was served in custom Derby cups from Blair's Gifts, and you can order them directly from her website, along with the gorgeous Churchill Downs cocktail napkins and Jersey Silks guest towels featured in the photo.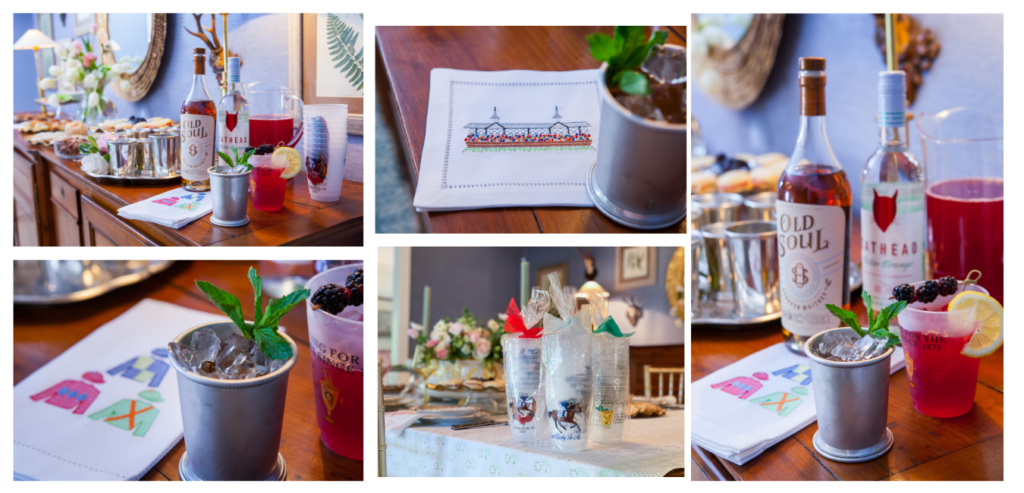 I could not host a Derby Party without serving Mint Juleps, and used Mississippi's-own Old Soul Bourbon, from Cathead Distillery. This smooth bourbon was the perfect Mississippi touch to our Derby party, and made this traditional cocktail so delicious. For our mint juleps, I muddled a few sprigs of fresh mint with 1/4 oz simple syrup in the bottom of the julep cup. I then filled ice to the brim of the cup, and added 2 oz Old Soul Bourbon and garnished with mint leaves.
I hope that you enjoyed this beautiful Derby spread and please let me know if you make anything from it. To purchase any of the items, please follow the links provided, or see below for contact information.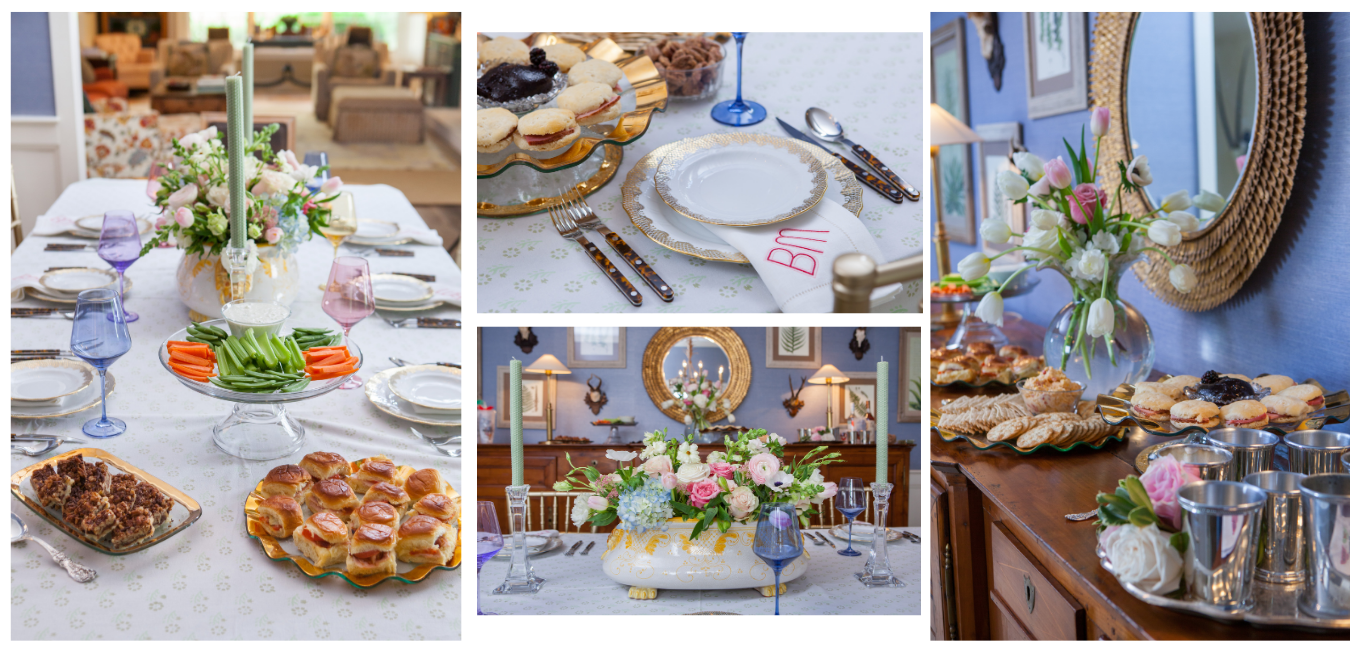 The Team
Food by The Dinner Darling – Follow @thedinnerdarling on Instagram – www.thedinnerdarling.com
Drinks by Cathead Distillery – Follow @catheadistillery and @drinkcathead on Instagram – www.catheaddistillery.com
Custom Embroidery and Gifts by Blair's Gifts – Follow @blairsgifts on Instagram – www.blairsgifts.com
Table Settings by The Finery – Follow @thefineryjackson on Instagram – www.thefineryjackson.com
Floral Design by Lavish Fleur – Follow @lavish_fleur on Instagram
Photography by Abe Draper Photography – Follow @abe_draper_photo on Instagram