Social Distance Shower
A few months ago, before the Covid-19 numbers spiked in Mississippi, I was asked to help with the food for a good friend's baby shower.  Shower food is my love language, so of course, I was happy to do it. One request – all of the food must be in individual containers, and safe for consumption. A challenge? I love a challenge. I talked with one of my other friends hosting the shower, and we found some really fun, and inexpensive, containers on Amazon, and we started on the menu. With everything needing to be separate, that got rid of any hot food options, and since it was in June in Mississippi, that was totally fine with everyone. I also wanted to cut down on having to use utensils, so I came up with some fun food ideas that would not require them. The shower was a hit, we had masks, plenty of social distancing, and we didn't have to bother with plates or cutlery. One of the containers came with precious little spoons, so it all could be tossed, which was key.  Everyone loved the food and the presentation so much, that we agreed and all shower food should be served this way, even post-Covid, if that is going to be a thing.
The Menu 
Charcuterie Boats
Assorted Tea Sandwich Spoons
Pasta Salad Cups
Hummus and Veggie Cups
Caprese Skewers
Assorted Desserts
 The Menu Details
I love charcuterie; I mean who doesn't right now? I love creating fun boards with meat and cheese, but obviously, we could not do a big board for everyone to hover over. We found these awesome bamboo boats online, and I knew that I HAD to make charcuterie boats. Is that a thing? Well, it is now.  I went simple with salami, pepperoni, crackers simple cheeses, fruit and nuts. They turned out really cute, and I can't wait to make them again.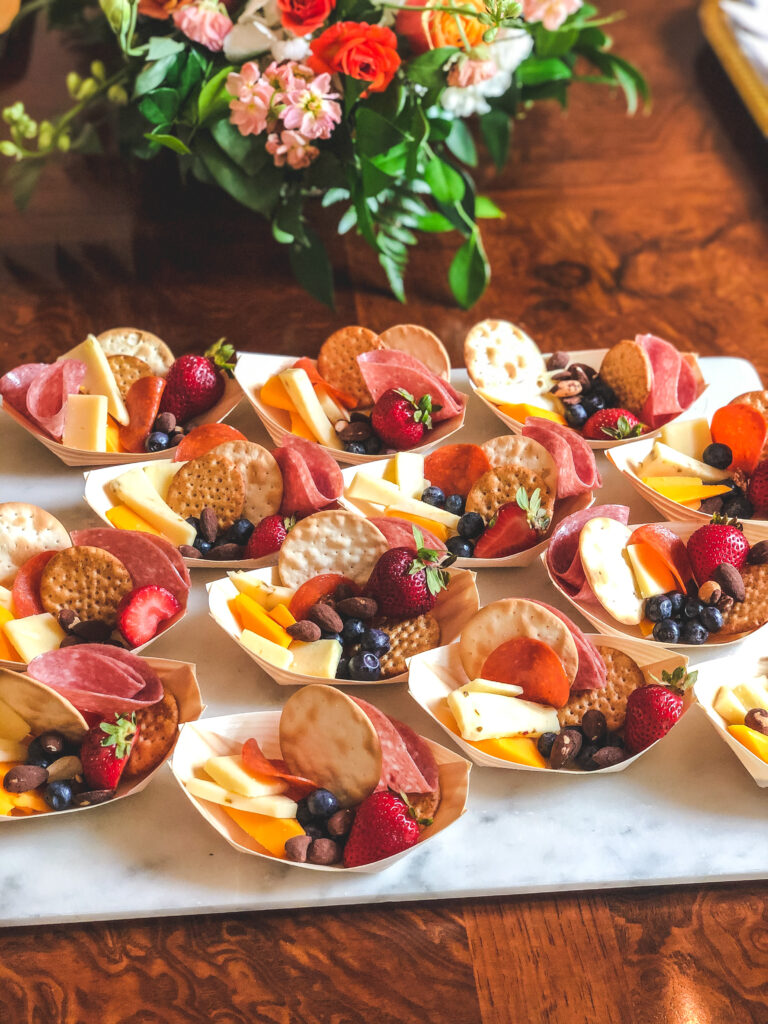 Next up – tea sandwiches. These tasting spoons were the perfect size for a bite of sandwich, and I decided on three kinds: a cucumber sandwich with a lemon dill aioli on white, pimento cheese with Captain Rodney's glaze on melba toast, and chicken salad on wheat. They were easy, light, and perfect for a summer shower. I used the top of a champagne flute to cut the circles of bread and used Pepperidge Farm thin white and wheat to make the bread to topping ratio more even.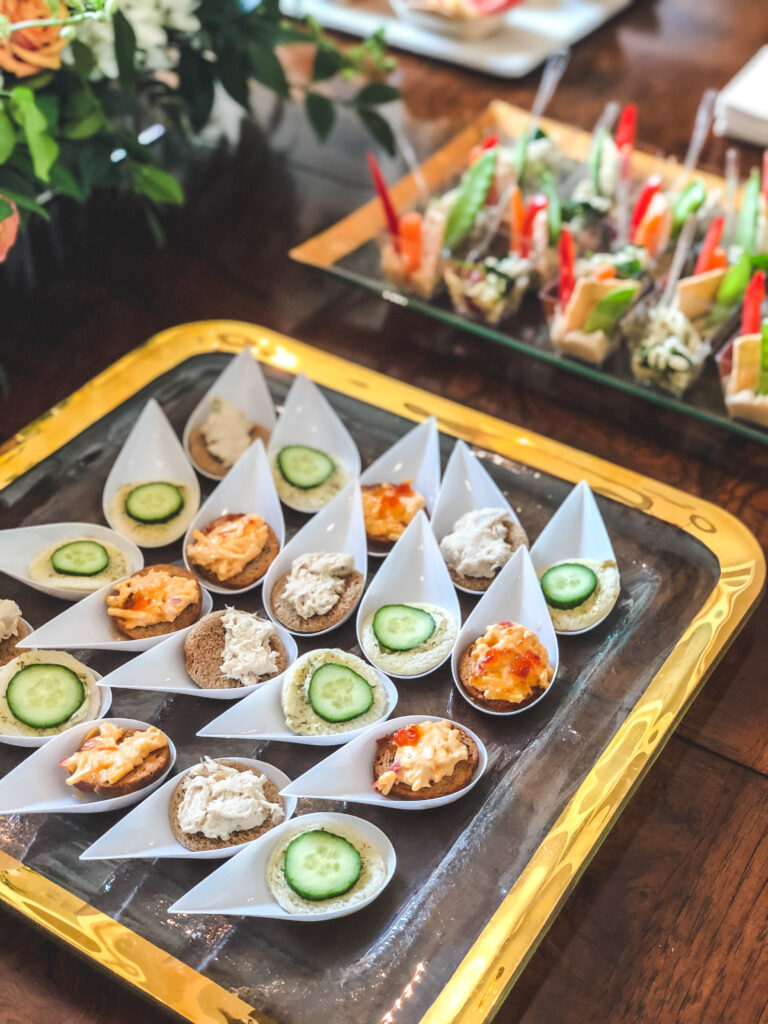 These clear cups came with tiny spoons, and I knew I wanted a pasta salad in them. I reached out to a friend for a good orzo pasta salad recipe, and she suggest Fresh Market's and it was perfect. The orzo was small enough to fit in the tiny cups and make a decent portion. And those spoons? Adorable!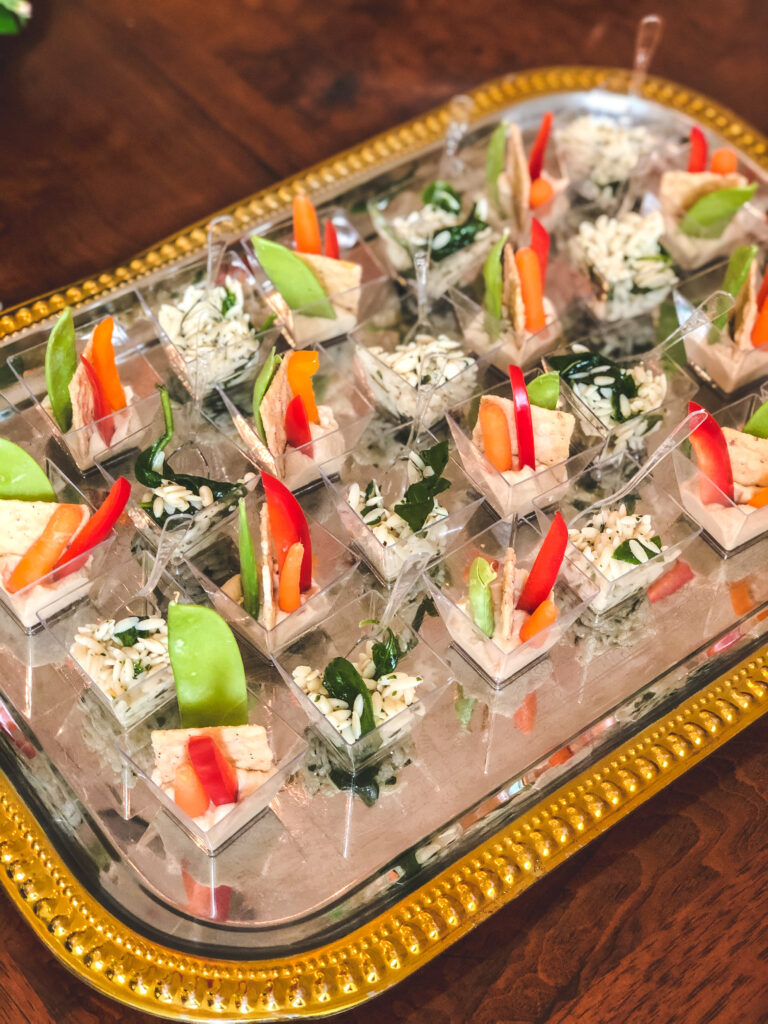 I decided we needed a vegetarian option as well, so I used the same clear plastic containers for hummus cups. I sliced bell peppers and used sugar peas and carrots for the other dippers. I added a Good Thin gluten free cracker in each, and we were done. Colorful, and easy to eat while standing around.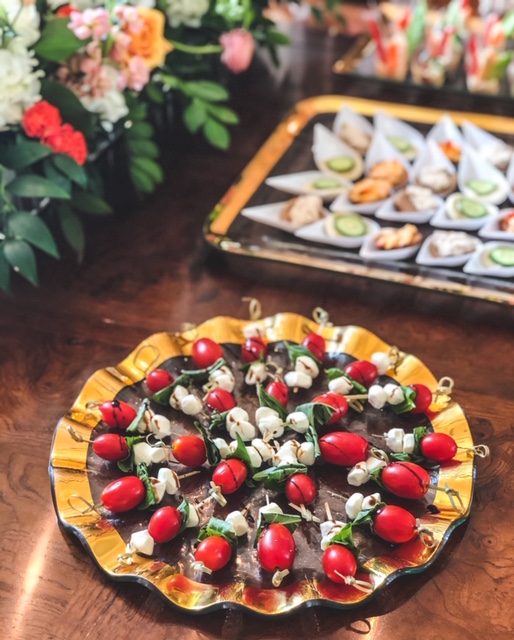 For a final pick-up item, I decided on caprese skewers. They are so easy, and if you can find the bamboo skewers with the knot on the end, they look so much more high-end than a traditional toothpick. I plated them on a beautiful piece of Annie Glass, and drizzled balsamic glaze on top, to complete it.
I was not in charge of desserts, because not only do I loathe to bake, I am terrible at it. The dessert trays consisted of individually wrapped monogrammed cookies, and petit fours. They were the perfect socially distanced (?) desserts for a social distance shower. All in all, the containers made the presentation even better than if we had not had them, and I think I will be using them more often.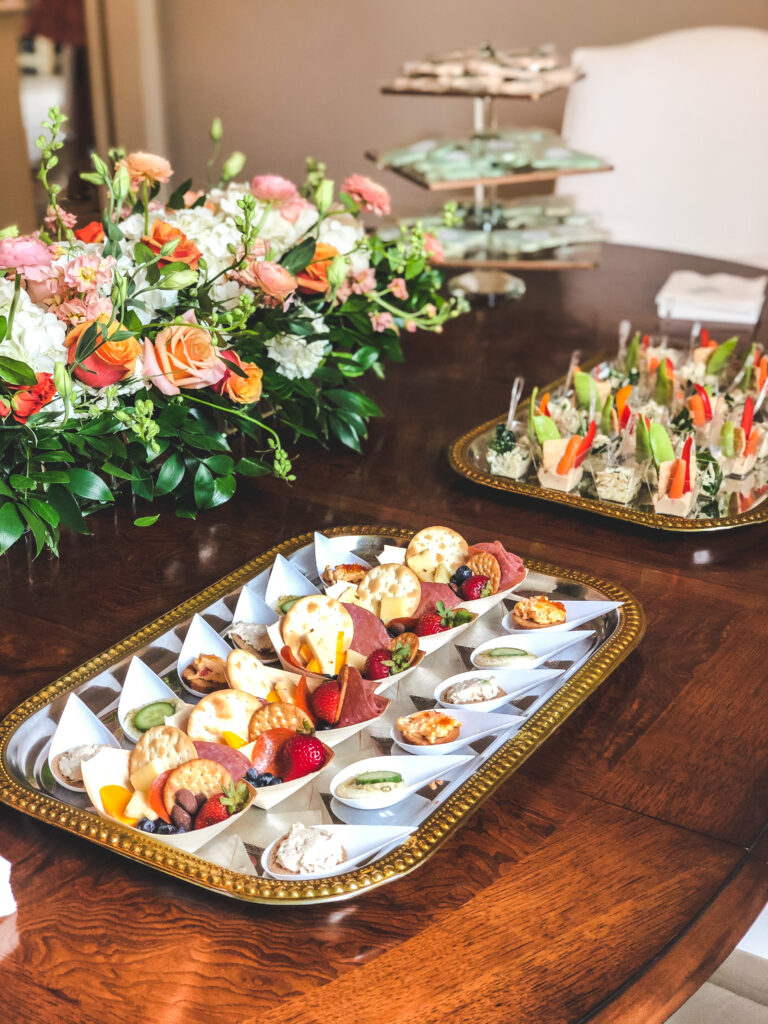 Would I ever cater for a living? HECK NO! I did get several catering job-offers on the spot, but unfortunately, this is just something I do for good friends. It makes for a long day, and I get way too stressed to do it in real life, but I had so much fun doing it and celebrating my sweet mom-to-be friend.